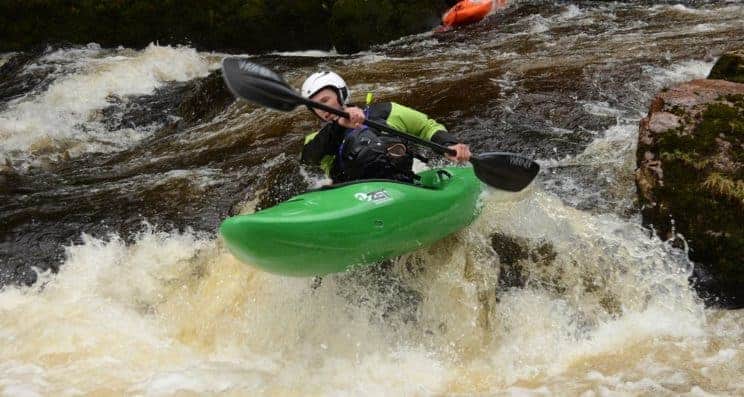 The Leadership and Raft Guide Awards suite align to the British Canoeing Awarding Body Educational Philosophy and support leaders to run safe, quality, enjoyable trips, based on their group's needs and aspirations.
The White Water Leader supports paddlers who wish to lead groups of white water boats on grade 2(3) white water rivers.
White Water Leader Overview
Minimum age
16 years
Prerequisites
Full National Association Membership
Valid (within 3 years) British Canoeing Awarding Body recognised 2-day First Aid Award
Valid (within 3 years) Safeguarding Training recognised by British Canoeing Awarding Body
Safety Award – White Water Safety and Rescue Training
APL
If you feel you already have the relevant skills to bypass the prerequisite safety training, log in to your membership record and apply for Accredited Prior Learning.
Course Length
Optional Training / 1-2 day Assessment
eLearning
Optional free Leadership eLearning
Course Documents
To view the associated documents with this course, please click here.
Registration
You will need to register with your Delivery Centre ahead of assessment. Visit your Delivery Centre website below for further information.
Find a Course
Visit your Delivery Centre website to find a course near you.
Informal learning, experience based learning, and an availability of individualised choices are important to developing skilled leaders. To supplement this, British Canoeing Awarding Body provides quality training opportunities for those that seek them. It is important that you take an active role in deciding the appropriate preparation, training and experience that you need prior to presenting yourself for assessment. Guidance is offered below to help you construct this personalised development journey.
British Canoeing Awarding Body Training  
British Canoeing Awarding Body White Water Leader Training courses are available to support you in your development of the required skills. These courses typically cover leadership skills, and the associated personal skills, safety and rescue skills. As this training is delivered by British Canoeing Awarding Body White Water Leader Providers, they will also be able to help you identify an appropriate action plan to support your progress towards a successful assessment. This is the comprehensive option; courses are normally offered as 2-5 day programmes, with longer courses providing more time for you to practice and develop the skills.
Other Training Opportunities  
You may wish to opt for more bespoke training opportunities. For example, private tuition, in-house training through your work place, working alongside/shadowing other Leaders, or conference/symposium workshops. Many British Canoeing Awarding Body White Water Leader Providers are willing to offer bespoke training to individuals or groups of individuals. The benefit of working with a White Water Leader Provider is that they have explicit knowledge of the award requirements. However, there are a great many other experienced Leaders who may be in a position to support your development; the White Water Leader Assessment Guidance,  Checklist and the Leader and Raft Guide Self-Analysis Tool can be used as a steer as to the skills required.
Supportive Resources
There are a range of resources to support you on your journey to becoming a Leader, from the self-analysis tool, to the logbook and journey planning sheet. Explore the resources here.
Methods of Assessment
In order to achieve the qualification you need to show competence in the following elements:
Participant focused leadership skills
Personal paddling skills
Rescue skills
Underpinning background knowledge, understanding and experience
The Leadership Assessment will normally run over 1 or 2 days. This will depend on the course ratios and logistics relating to access to suitable environments.
Upon completion of the Assessment, the course provider will submit successful participants for certification.
Course Documents
To view the associated documents with this course, click here.
Find a Course
To find a course in your area, visit your Delivery Centre website by clicking the relevant logo at the bottom of this page.