Welcome to the new British Canoeing Awarding Body (BCAB) website and the first of our newsletters.
We are pleased to introduce you to our new website which is packed full of information and eLearning activities to inform and support you through your paddlesport journey.  There's something for everyone with information about the Awarding Body, our Regulated and Non-regulated Awards, a Paddler Zone and a Provider Zone.  There's also a dedicated area for each of our individual Delivery Centres.
"The British Canoeing Awarding Body website is a really positive step in being able to better support Learners, Providers and Delivery Centres.  This 'one stop shop' showcases the educational arm of the organisation, providing resources, syllabuses, academic research and delivery guidance.  On a regular basis, resources will be added with the inclusion of interactive packages that can be accessed to support and develop paddlers, leaders, coaches and providers."   Lee Pooley, British Canoeing Awarding Body Responsible Officer
"The site reflects a wider, new direction for both British Canoeing Awarding Body and British Canoeing.  It is the first step on a journey to develop the digital presence of both organisations.  
Our user-led approach means developments are decided by visitor data and ongoing feedback from users. 
Also, as the fully responsive site is developed in-house, we can be more agile in terms of meeting user needs. Just as the site responds to devices, we can respond to needs.
This is the first of many changes we have planned for the next 18 months. The new Awarding Body website is an exciting development to kick it all off."   Barry Wade, Head of Digital, British Canoeing
Browse at your leisure and why not give us your feedback at the British Canoeing 2018 UK Coaching and Leadership Conference.
As we look forward to the exciting developments expected for 2018, it is also important to acknowledge everything we achieved in 2017. We have put together the following infographic to show which courses were certificated throughout 2017: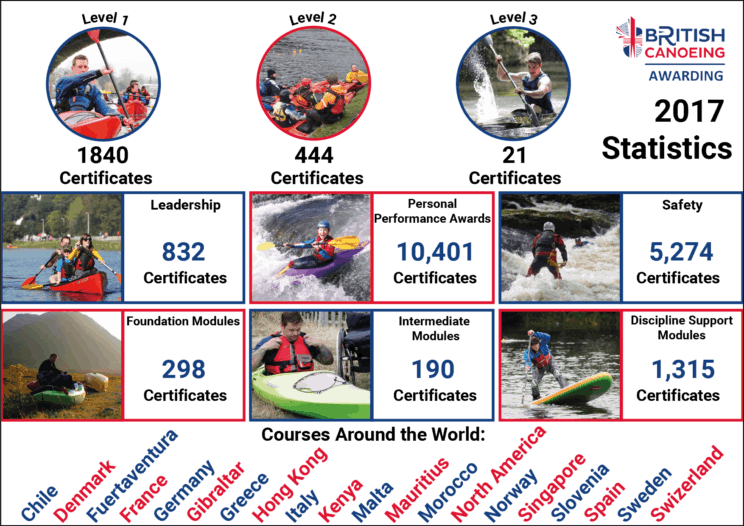 The British Canoeing Awarding Body wishes you a very happy 2018.